Oh what can I tell you about this place. It was nothing short of shocking at first, then slowly transitioning into wonder and delight then to food poisoning and having "the runs." Still though. This place was unlike any other place I visited. It's gritty like Brazil, full of hustlers like my Harlem, grand like Russia, warm like Costa Rica with beautiful blue beaches like Mexico yet soulful and exotic like Dominican Republic. I don't know, man, this place was definitely worth a trip.
I received a lot of questions from friends, family and co-workers asking about the trip. Here's what we learned. I used this guide with the initial planning, which helped out quite a bit. Also, I reached out to friends who I knew have recently been in Cuba, asking for advise and all. Lastly, Pinterest was a great source of finding out about different blogs and what they have to say.
Getting there from NYC:
We booked our flights through JetBlue for approximately $300 and some change. Once we got to JFK, there was a separate Cuba check-in line. You buy your visa for $50, fill it out, check in and off you go. Once you get to Cuba, you present your passport and the visa and voila! It was that easy. Also we read that getting checked in baggage would slow down the process, so we had carry-ons in order to avoid dealing with it. It helps that we're both very light packers.
Once we got to the airport, we changed some money, approximately $400. There are taxis all over and to get from the airport to Central Havana is $30 CUC, which is the standard rate.
To eat and drink:
Let's start with the more important stuff. So some of the blogs I read, people said the food was bad and some said that it was good. Bottom line, there are some shitty place, like anywhere else, and some really really good ones. Fried plantains were like Cuban version of chips. Naturally, a Cuban sandwich is a must. Ropa vieja (shredded beef) was by far our favorite, which came with a side of Moros y Christianos (rice and beans). Side note, if the meal is called Moors and Christians, shouldn't they just call a mulatto? Just wondering. And perhaps the most unusual thing we ate in Cuba was Russian pelmeni at this kitchy Soviet place called Na Zdorovie. Sitting above Malecon, at sunset, drinking mojitos and listening to some live music was pretty damn sweet.
There is this restaurant called La Guarida located on the third floor of a dilapidated building. It is always booked and we managed to get a 10 p.m. reservation on our last night. BUTTTTTT we didn't have enough cuban peso, as in, we couldn't afford the dinner. We forgot to exchange money and by the time we realized, everything was closed...yup.
Near Plaza Vieja, there is a really good churro stand. For $0.50 you can enjoy some pretty delicious churros on the go.
Anyway, the main reason we got sick was because we drank the mojitos, which had the ice made from unfiltered local water. I still suggest trying it there, the birth place of a mojito, which was at La bodeguita del medio Also, the daiquiris, which were originated in La Floridita (Ernest Hemingway's old stomping grounds). There were also pina coladas abound, served in a small pineapple. Totally cliche but so fresh and delicious. As Anthony Bourdain said "Your body is not a temple, it's an amusement park. Enjoy the ride!" Was it worth it? Yeah, for sure. But do have a back up plan (pun intended) in a form of a Pepto-bismol and extra toilet paper.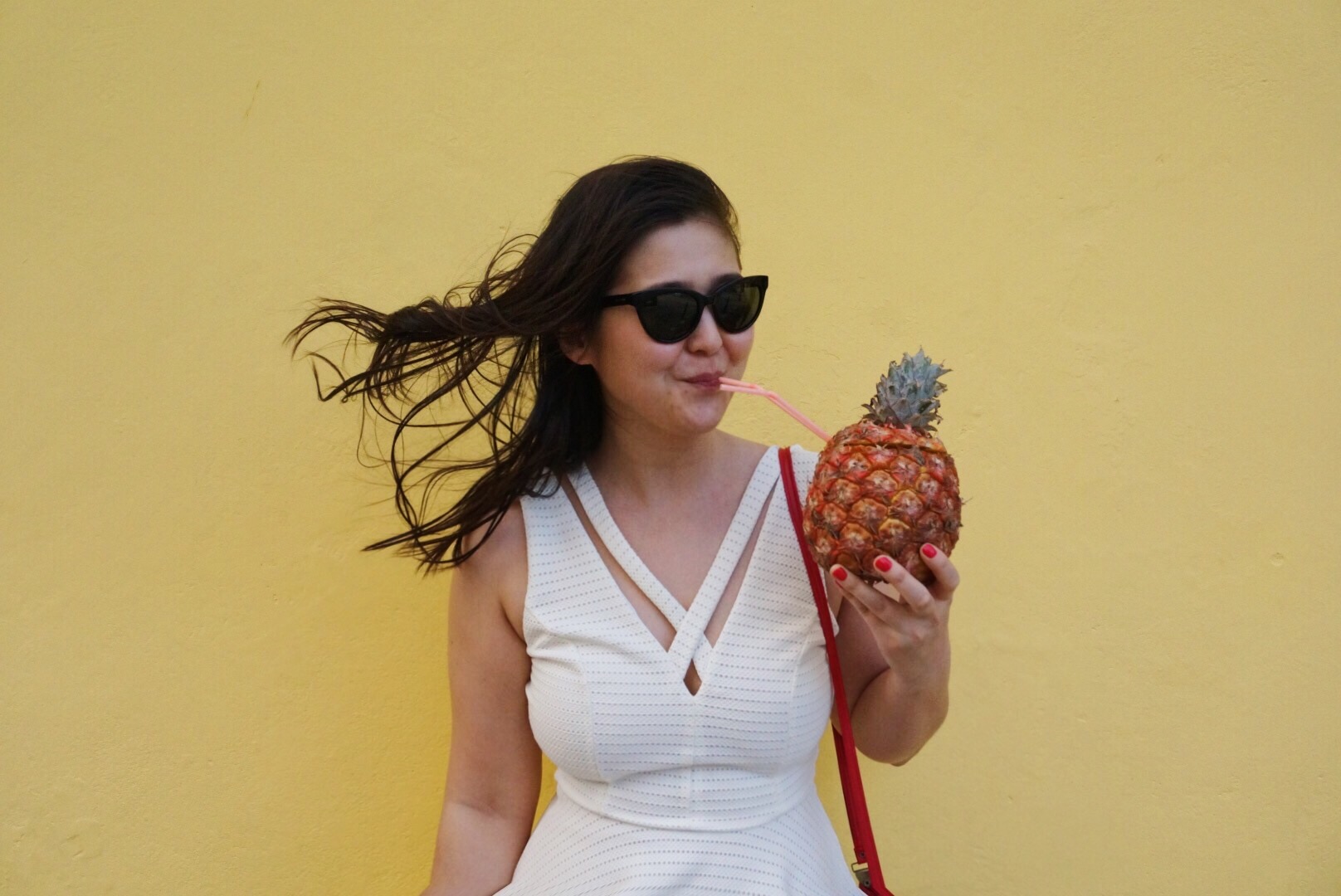 To Stay:
We stayed in 3 different places while we were in Cuba. As Hotel Nacional was one of the famous and historical places, I wanted to see what it was all about. Rooms were ok, nothing too fancy, but for the price we paid, I expected a bit more. However, as this hotel was more establish and knew all the tourist information, they were a lot more helpful than most places.
When we went to Varadero, the hotel (Starfish Las Palmas) was awful in a sense that the room reeked of stale cigarette and cigar smoke. I mean, it was everywhere. In the blanket, in the curtains, in the furniture. The kicker is that I specifically requested a non-smoking room. Also, Varadero was where I got my food poisoning, I think from this small restaurant. Not a fun way to spend a night, sleeping in the bathroom. And to top it all off, the staff was absolutely rude and not helpful at all. When asked about whether they could arrange a bus from Varadero to Havana, they kept responding "I don't know." Maybe it was a language barrier, but when it comes to beach side vacations, splurging is worth it.
After 2 days, we came back to Havana and stayed in an Air BnB called Concordia Boutique Hotel. Most guides recommended staying at a casa particular (aka B&B) and they're right. The staff was amazing and extremely helpful. We got some Cuba Libres upon arrival as a welcome drink. Ceilings were like 15 feet high, water pressure was fantastic and best of all, it was in Havana Centro with a little balcony. You could just hang out and see how locals go about their day. Across the street, a family had the cutest little dachshund that would stick its head out and look below with its floppy ears hanging out. Too cute! They also had a roof top restaurant, which gave you even better view of the city. AND out of all the places, this was the cheapest ($120/night) and worth every penny.
To See:
Once I started planning the trip, almost every blog and travel guides suggest going to Old Havana and Malecon. Those areas have higher end hotels and more catered to the tourists. However, in my personal opinion, walking through Havana was a worth while expedition. You see the real life, with crumbling buildings and all. My suggestion is definitely check out the touristy spots, but then go of the beaten path.
And the cars! Super touristy, but hopping into one was like going back in time. We rode in an 1956 Bel Air with over 3,000,000 km (roughly 1.5M miles) with an original engine. These vintage cars are everywhere. You can flag one down, haggle down the price and take a nice ride along Malecon.
Side Trips:
We took a 2 day detour to Varadero, which had the most beautiful beaches I've ever seen. Only 2 hours (max) from Havana, it's worth a trip. With bluest warm water, gently lapping away, it was amazing. We didn't do much but bum at the beach, drinking pina coladas and mojitos. The town is full of touristy shopping, where I got most of it done. I would've liked to stay here more, but the hotel issue was truly upsetting and I was glad that we left when we did.
We were planning to go to Vinales as well, where tobacco farms are located. But 1) it was a bit too far and 2) we were low on the Benjamins. Instead, we decided to spend more time in Havana and I'm glad that we did.
Misc:
Although there are a lot of street hustlers, trying to get you to take the taxi, give you a tour, suggest a restaurant etc., once you tell them you don't need it, they just leave you alone. More than anything, they're curious where you're from and why you're in Cuba. We would walk at night what, by our standards, would be a super sketch neighborhood, but we never felt unsafe, approached by questionable characters or harassed in any way.
Internet in Cuba SUUCKSSSSS, like so bad! In a way, it was nice not be attached to your phone at all hours of the day and just enjoy the vacation. But real life was still happening back home (i.e. work emails) and Instagramming had to be done :-) Cuban have this Wi-Fi card that you can purchase, which gives you access for 30 min. It is spotty and unreliable. So a bit of patience goes a long way.
As for cigars, whatever you do, do not buy them on the street. They're not 100% tobacco and for an inexperienced smoker, like myself, I wouldn't know the difference. Instead, go to a government run shop, which caps the prices and you know that you're going to get a real Cuban cigar. We went to Fabrica de Tabaco Partagas, where an old Partagas cigar factory was. Although the factory is no longer there, they still have a cigar shop inside with a wide variety of selections (yes, they do have Cohibas and they're very expensive. A box of 25 was $425 CUC, which is approximately $425 US. You read this right, lol). We were running out of money at that point, and even though we wanted to get a box, we managed to get bunch of single cigars for friends, family and ourselves.
All in all, we spent approximately $1,700 per person for the entire week including flight and lodging. $333 for round trip flight, around $700 for 3 different hotels and $600 per person in cash (about $100/day per person) that we took. Forget credit cards, nothing works there for Americans. And when it comes to haggling, do it and do it often, especially with taxis.
Lastly, have an open mind and lots and lots of patience. I'll be the first to admit, toward the end, with my weak stomach, I was losing it a bit. However, this was one trip I'll never forget. Viva Cuba!